Be A Part of NYC
Drop off your bags and take to the streets to soak in the energy and culture of NYC.
Vibrant neighborhoods, soaring skyscrapers, and an unmatched dining and shopping scene make new New York City the most exciting destination in the world.
From Hotel 46 Times Square's doorstep, you can experience Times Square, Broadway Theaters, Madison Square Garden, the Fashion District, the Empire State Building, and easy access to the Javits Convention Center. Explore iconic landmarks, shop on Fifth Avenue, or take the ferry across the Hudson River to see the Statue of Liberty.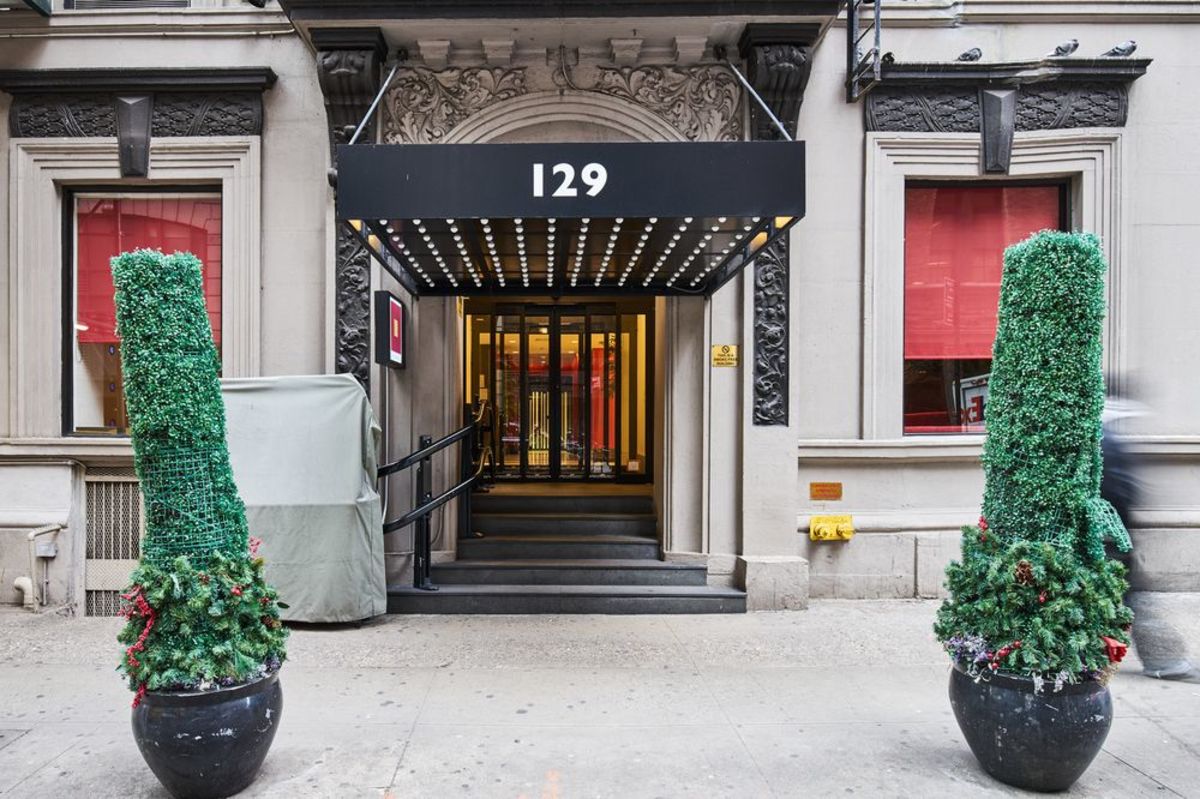 Below is an interactive map which isn't accessible. Please skip to next section by hitting enter.
NYC's TOP ATTRACTIONS, easily accessible from Hotel 46 Times Square
Hotel 46 Times Square
129 W 46th Street
New York
NY
10036
Visit North America's largest man-made waterfalls, twin reflecting pools, and museum built as a place to pay respects to those that lost their lives and as a solemn reminder of the tragic attacks that occurred on 9/11.
180 Greenwich St
,
New York
,
NY
10007
,
USA
Once a railroad track, NYC's elevated park and walking playground is covered in grass and wildflowers. Walk this urban park and promenade that spans 1.5 miles from Hudson Yards to northern Chelsea.
See the world-famous diplomatic collective in action and tour the historic location where world-leaders convene to discuss global issues, solve problems, and develop international peace and security.
Take a peek at the intricate details of this Gothic Revival house of worship that sits amid the hustle and bustle of Rockefeller Center and offers visitors awe-inspiring designs, marble towers and pointed arches.
5th Ave
,
New York
,
NY
10022
,
USA
Sail across the Hudson River by ferry to Ellis Island and wave hello to Lady Liberty. Climb to the top of the iconic statue for panoramic view of New York Harbor and shop and tour the museum located on the island.
Ellis Island,
United States
This Art Deco building offers stunning views at the "Top of the Rock" and boasts an eclectic shopping and dining concourse. In winter months, visit the city's biggest Christmas tree and hit the ice skating rink.
45 Rockefeller Plaza
,
New York
,
NY
10111
,
USA
As one of Manhattan's most eye-catching skyscrapers with its triangular shaped windows in its crown, this prominent building in Murray Hill adds to the quintessential New York City skyline.
405 Lexington Ave
,
New York
,
NY
10174
,
USA
Located at the SW corner of Central Park, this roundabout is home to many high-end shops and restaurants, the Time Warner Building, and marked by the 76-foot monument at its epicenter.
Columbus Cir
,
New York
,
NY
,
USA
As Manhattan's premier sports and entertainment complex, MSG is home to the NHL's New York Rangers, the NBA's Knicks, and it also offers the best stage to see your favorite musicians perform in the Big Apple.
4 Pennsylvania Plaza
,
New York
,
NY
10001
,
USA
As the nation's biggest transit hub, admire the beautiful Beaux-Arts train terminal's ornately painted ceiling and visit the enormous concourse filled with shops and eateries perfect for on-the-go.
89 E 42nd St
,
New York
,
NY
10017
,
USA
Located at the union of Broadway and Fourth Avenue, this geometric grassy patch of land welcomes visitors daily to congregate and frolic to escape the city grind. It's also home to Greenmarket on Saturdays.
Union Square,
New York
,
NY
10003
,
USA
Arguably the most famous structure in Manhattan, travel up 102 floors to the observatory deck offering sweeping views of New York City and beyond, or stay ground-level to dine and shop on the concourse.
20 W 34th St
,
New York
,
NY
10001
,
USA
Spanning 50 blocks up the center of NYC, escape to this urban oasis after a day of traversing the city streets. Designed in 1858, CP offers trails, sports fields, concert stage, and endless people watching.
Adjacent to Bryant Park, step inside of this NYC landmark that houses 25,000 books and bindings, a handwritten copy of the Declaration of Independence, and a rotating series of art and science exhibits.
476 5th Ave
,
New York
,
NY
10018
,
USA
9/11 MEMORIAL AND MUSEUM
THE HIGH LINE
UNITED NATIONS HEADQUARTERS
SAINT PATRICK'S CATHEDRAL
ELLIS ISLAND
ROCKEFELLER CENTER
CHRYSLER BUILDING
COLUMBUS CIRCLE
MADISON SQUARE GARDEN
GRAND CENTRAL STATION
UNION SQUARE
EMPIRE STATE BUILDING
CENTRAL PARK
NEW YORK PUBLIC LIBRARY